FEBRUARY 2023
UKG Graduation
In celebration of climbing the academic ladder- UKG- Graduation-11th February 2023
Students of Lower Kindergarten gave a memorable farewell to their friends of Upper Kindergarten on the 11th February 2023 with foot tapping numbers which kept the audience mesmerized. Students of Upper Kindergarten also showcased their talents with an energetic and joyous dance. They thanked their parents and grandparents with a song.
The students of UKG were awarded certificates and mementos by Ms.Preetika Venkatakrishnan, Senior Vice-President- Karadi Path Education Company.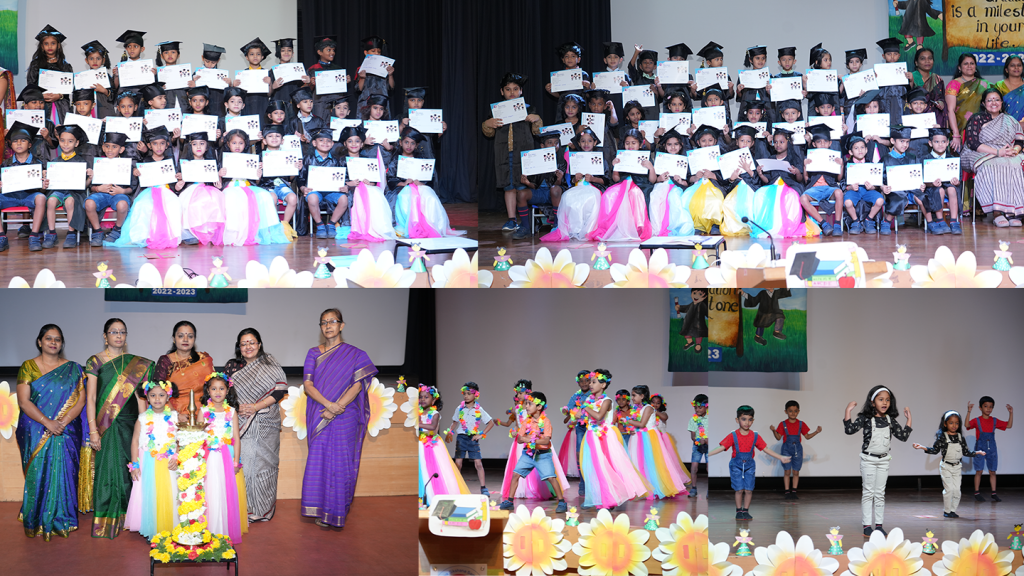 Class 10 Graduation
Bidding farewell to our outgoing Tenth standard batch- 14th February 2023.
Students of class IX gave a memorable farewell to their friends of class X on 14th February 2023. The theme of the event was success. Students presented foot tapping dances which kept the audience mesmerized. Mrs. Lakshmi Sridhar welcomed the august gathering.
Dr. M P Shyam, President Rashtreeya Sikshana Samithi Trust was the chief guest of the evening. Dr. A S Vishnu Bharath, Chairman, R.V. Public School graced the occasion with his presence. 53 students of class X were given mementos by the guests. Dr. M P Shyam, President Rashtreeya Sikshana Samithi Trust, in his presidential address, asked to work hard towards achieving their dream.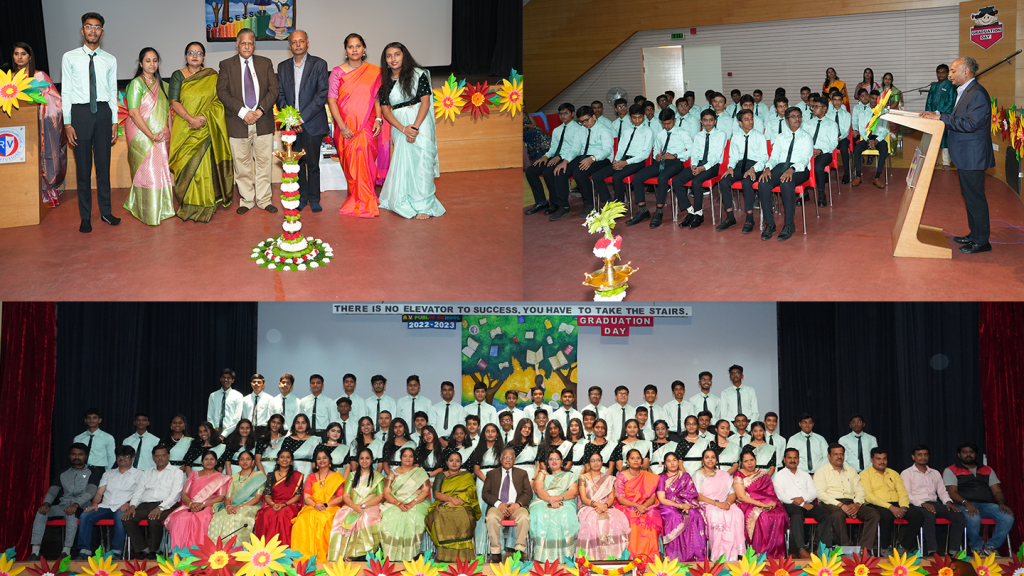 Investiture ceremony
Scouts and Guides and Felicitation of retired teachers, academic achievers and student achievers.
As a culmination of the year's activities of the Scouts and Guides, an investiture ceremony was conducted on 27th February 2023 where the scouters and guiders took the solemn oath and were badged. The chief guest for the day was Ms. Ritanjali Panda, District Coordinator, Bangalore South Guide Representative. The parents also witnessed a colourful entertainment program by the students and campfire. The students prepared and served a light meal for the parents.
Ms. Pushpa and Ms.Gowri Gopinath, our teachers who had retired from active service were felicitated by the Principal.
ICSE School Toppers of the academic year 2021-22 Anushka, Nityashree S and Abhishek Upadhyaya were also felicitated for their achievement.
English Olympiad gold medal winners Jeeshan Sai Mallireddy of class I and Aadhya Arvind Rao of class I, Math Olympiad gold medal winners Arjith Chand K of class I, S. Vedesh of class IV and Aniket M Joshi of class VII were commended for their achievement.
Anvitha P Rao of class IX for her achievement in the field of Yogasana, Prasnanjeya Atibudhi of class VIII for her achievement in the field of Gymnastics, Idhant Shashwat Chaturvedi of class VIII for his commendable achievement in swimming and Chinmai C Anand of class IX accomplishment in the field of taekwondo were congratulated by the Principal for their achievement.