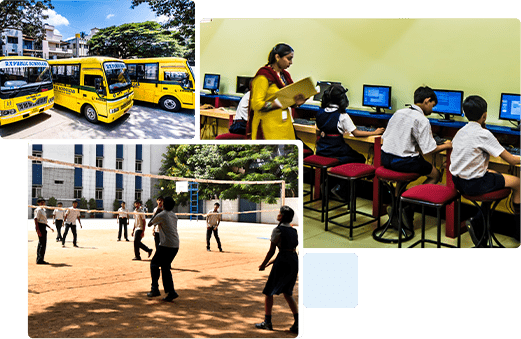 About RV Educational Institutions
Quality education for one and all — this is the motto that drives RV Educational Institutions. Our journey began over 80 years ago under the leadership of Sri MC Sivananda Sarma, founder of Rashtreeya Sikshana Samithi Trust (RSST). A devout believer of Gandhian principles, he laid the foundations of our group to help fellow Indians realise their true potential.
In keeping with his mission of 'Excellence in education with societal commitment', we have aligned our efforts to make affordable, world-class education accessible to all sections of society.
About RV Public School
RV Public School, established in 2003, is set in a spacious two-acre campus, helping children learn and grow in a peaceful and positive environment. Our unique curriculum focuses on textbook learning as well as the all-round growth of students through sports, music, and art among other extra-curricular activities.Through our affiliation to the Council of Indian School Certificate Examination (CISCE), we endeavour to foster a generation of change makers and go-getters, making us one of the best ICSE schools in Bangalore.
Our holistic teaching methodologies integrate traditional Indian values within a modern pedagogy. Through these efforts, we strive to shape our students into thinkers, creators, and achievers — preparing them to take on the ever-evolving world. All this is only possible with our qualified and dedicated faculty that supports every child in becoming their best.
Objectives
Our teaching methodology is designed to recognise and encourage each student to understand and pursue their own unique talents. Every child is special and at RVPS we ensure all our children experience a holistic and dynamic learning environment. Our collective mission remains to encourage students to develop and excel at their own unique skill sets.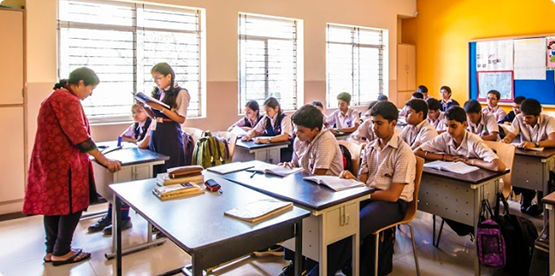 RV Public School was awarded the ISA British Council International School Award Accreditation Scheme, in recognition of outstanding teaching practices at the school-level. The ISA programme for RV Public School was extremely eventful and creative, with our smartest minds of the team working hard under the expert guidance of our Principal.
The entire programme involved extensive brainstorming and meticulous planning, which included charting out objectives, an action plan with international understandings, and methods of implementation. An integrated approach to learning was introduced during the implementation of the ISA plan, initiating practical exercises and activities for the students of grade 3 and 4.
Students were also given a chance to participate in assembly programmes, quizzes, field trips, scrap book activities, and documentation of team efforts, making it a memorable experience for everyone.
Faculty & Staff
RV Public School ensures a healthy teacher-to-student ratio that ensures a child's strengths and areas of development are given due personalised attention. We believe that pre-primary schooling plays a very important role in the child's personal, social, and emotional development. We conduct in-house training programmes that bring the best teaching practices to the table. We also call in experts to host workshops and encourage our teachers to participate in sessions held by other teaching bodies.
We follow a stringent and rigorous process for the recruitment of our teachers. A caring attitude coupled with good classroom management skills is something we consider a top requirement in any teacher. We believe a good teacher should bring their energy and enthusiasm to the classroom — making a positive difference in the lives of these young ones.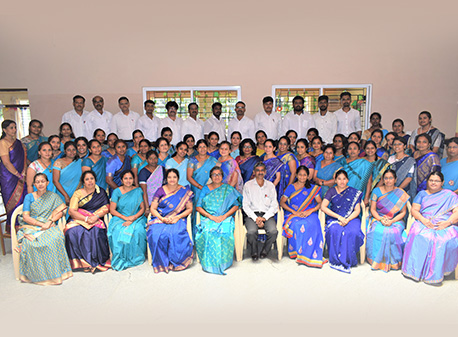 The demands of the 21st century require that children of today acquire knowledge from all resources available to them. For this a strong foundation has to be laid from the very beginning — this is the ideology we live by, at RSST.

From its humble roots, RSST has grown to encompass a whole gamut of education, from kindergarten to post-graduate studies. We offer a range of courses at our institutes including Dentistry, Nursing, Physiotherapy, Engineering, Teacher's Training, and Management. I can proudly say that each one of these institutions has given us much insight into what a teacher-student relationship stands for. This has made it possible for us to pave the right path for the students of RV Public School.

RV Public School (RVPS) is located in the heart of the city, next to Lalbagh Gardens. Through the efforts of a committed team, RVPS helps power every student's inner potential. It offers top-notch facilities, cutting-edge classrooms, and play areas. 100% of the students complete their graduation, and most of them do so with distinction. Great professional heights have also been attained by the school's alumni.

I am privileged to be the Chairman of the Governing Council of the school and strongly recommend that parents help their children start learning at RVPS and glorify their future. North or south, east or west, RV Public School is the best and will remain the best.

School is a miniature version of society. 

Education is not just about academic training and excellence. It is also about laying emphasis on the importance of life skills, such as self-discipline, open mindedness, respect, responsibility resilience & reflection. 

Holistic development of students is R V Public School's vision and primary Goal.

To achieve a holistic development of students our academic calendar is full of student activities, events, sports, celebrations, cultural programs, Oratory competitions, performing Art exhibitions etc., all of which form an integral part of our academic curriculum.

We continue to ensure that students think independently, reason logically, work ethically, collaboratively and communicate effectively.

Dedicated teaching staff are committed in realizing the vision of the school.

Teachers have been equipped with necessary technological tools and content to meet the learning requirements of a class room.

The school is proud to have low attrition rate, many of our staff are associated with the institution, since it's inception.

Adaption to change is the mantra. During COVID-19 pandemic, teachers have embraced change to help the students to ride the crest of change, they have empowered the students with the ability to withstand the change by acquiring the ability to learn, un learn and re learn, so as to become the torch bearers for the times to achieve goal.

Our students are our brand ambassadors, the manner in which they conduct themselves in academics, extracurricular and co – curricular activities is itself evident and a credit to the school's culture and values inculcated.

Measure of success of an educational institution is the ability of its students and alumni to compete and excel at Regional, National and International levels. 

Over the years R V Public School has been taking great pride in its students and alumni accomplishments, awards and accolades which we believe is the apt indicator of the fruition of our endeavors.

Vidyaya Labhate sarvam, vidvaana sarvatra pujyate ll